pZ Vectors

1 Architecture of the pZ vector system

The pZ vector family comprises three main modules which are in general separated by the unique (see Notes for exceptions) cleavage sites XhoI, XbaI, AvrII, SpeI, SacI and AatII .

Module I contains the signals for transcriptional regulation, i. e. promoter/operator constructs as well as a ribosomal binding site (RBS) which both can be exchanged by unique cleavage sites (XhoI(AatII)/EcoRI or EcoRI/KpnI, respectively). This module contains also either a multiple cloning site (MCS) or the luciferase gene which can be replaced by any other gene of interest (GOI).

Module II harbors one of four origins of replication (colE1, p15A, pSC101, pSC101*). All replication origins are compatible, except pSC101 and pSC101*. The replication origins are shielded from readthrough transcription by terminator T1 of the rrnB operon and t0 of phage Lambda. pZ vectors suited for integration into the E. coli chromosome carry the attachment site of phage Lambda (attP) in addition.

Module III contains one of five antibiotic resistance markers which carry their genuine promoters and ribosomal binding sites (RBS).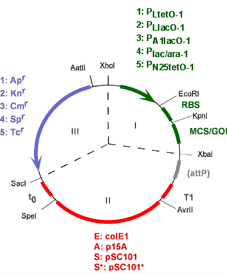 Notes:
• The GOI (gene of interest) inserted in the pZ vectors is P. pyralis luciferase
• XhoI and EcoRI are not unique in vectors containing an MCS
• XbaI is not present in vectors containing an MCS
• XbaI is not unique in some vectors containing a p15A origin (please check individual sequence)
• EcoRI is not unique in vectors containing a Tc resistance module and some vectors containing a Cm resistance module (please check individual sequence)
• In vectors containing either a pSC101 or pSC101* origin, SpeI cannot be used to replace the origin. Use SacI instead.
• The Lambda attachment site (attP) is only present in vectors denoted with "Int".
• The various replication origins give rise to the following plasmid copy numbers/cell:
colE1: 70 - 100
p15A: 30 - 50
pSC101: 10 - 15
pSC101*: 3 - 5

2 Topography and sequences of promoters

All promoter sequences are flanked by XhoI (ctcgag) and EcoRI (gaattc) cleavage sites (printed in lower case letters). The -10 and -35 hexamers are printed in bold, the transcriptional start site is underlined. lac operators are printed in red, tet operators in blue, ara I1-I2 (the binding site of AraC) is printed in green. "lacOs" is a symmetrical 20 bp synthetic operator. An additional lac operator is located further upstream of Plac/ ara-1 is flanked by an AatII (gacgtc) restriction site.

ctcgagTCCCTATCAGTGATAGAGATTGACATCCCTATCAGTGATAGAGATACTGAGCACATCAGCAGGACGCACTGACCgaattc

PN25tetO-1
PLtetO-1
PLlacO-1
ctcgagAATTGTGAGCGGATAACAATTGACATTGTGAGCGGATAACAAGATACTGAGCACATCAGCAGGACGCACTGACCgaattc

PA1lacO-1
ctcgagAAAATTTATCAAAAAGAGTGTTGACTTGTGAGCGGATAACAATGATACTTAGATTCAATTGTGAGCGGATAACAATTTCACACAgaattc

Plac/ ara-1
gacgtcTGTGTGGAATTGTGAGCGGATAACAAATTCACACA - 350 bp -

ctcgagCATAGCATTTTTATCCATAAGATTAGCGGATCCTAAGCTTTACAATTGTGAGCGCTCACAATTATGATAGATTCAATTGTGAGCGGATAACAATTTCACACAgaattc

ctcgagAAATCATAAAAAATTTATTTGCTTCCCTATCAGTGATAGAGTATAATAGAGTCGAATTGTTAGCGGAGAAGAATTTCACACAgaattc

3 Cloning sites

pZ vectors offer either a multiple cloning site (MCS) or the luciferase gene for the insertion of genes to be cloned and/or expressed. Depending on the vector backbone some of the restriction sites are not unique. Please refer to the individual vector sequences (tools & reagents) for more details.

Multiple cloning site (MCS)

EcoRI
GAATTCATTAAAGAGGAGAAAGGTACCGGGCCCCCCCTCGAGGTCGACGGTATCGATAAGCTTGATATCGAATTCCTGCAGCCCGGGGGATCCCATGGTACGCGT
RBS
MluI
KpnI
ApaI
XhoI
SalI
ClaI
HindIII
EcoRV
EcoRI
PstI
SmaI
BamHI
NcoI
luciferase
EcoRI
GGAATTCATTAAAGAGGAGAAAGGTACC - luciferase (1647 bp) - TCTAGA
RBS
XbaI
KpnI
4 Nomenclature of the pZ vector system

The letter (E, A, S, S*) denotes the origin of replication. The first digit indicates the resistance marker (1 to 5). The second digit (1 to 5) defines the promoter controlling the gene of interest. The MCS or the description of the gene of interest, e.g. luciferase, follows this code as examplified.

Origin of
replication
Resistance marker
Promoter
Expression
unit
Designation of
vector (example)


colE1 (E)



Ampicillin (1)



PLtetO-1 (1)



MCS



pZE11MCS


p15A (A)


Kanamycin (2)


PLlacO-1 (2)


luc


pZA22luc


pSC101 (S)


Chloramphenicol (3)


PA1lacO-1 (3)


MCS


pZS33MCS


pSC101* (S*)


Spectinomycin (4)


Plac/ara-1 (4)


luc


pZS*44luc


.
Tetracycline (5)

PN25tetO-1 (5)

luc

pZE55luc

---